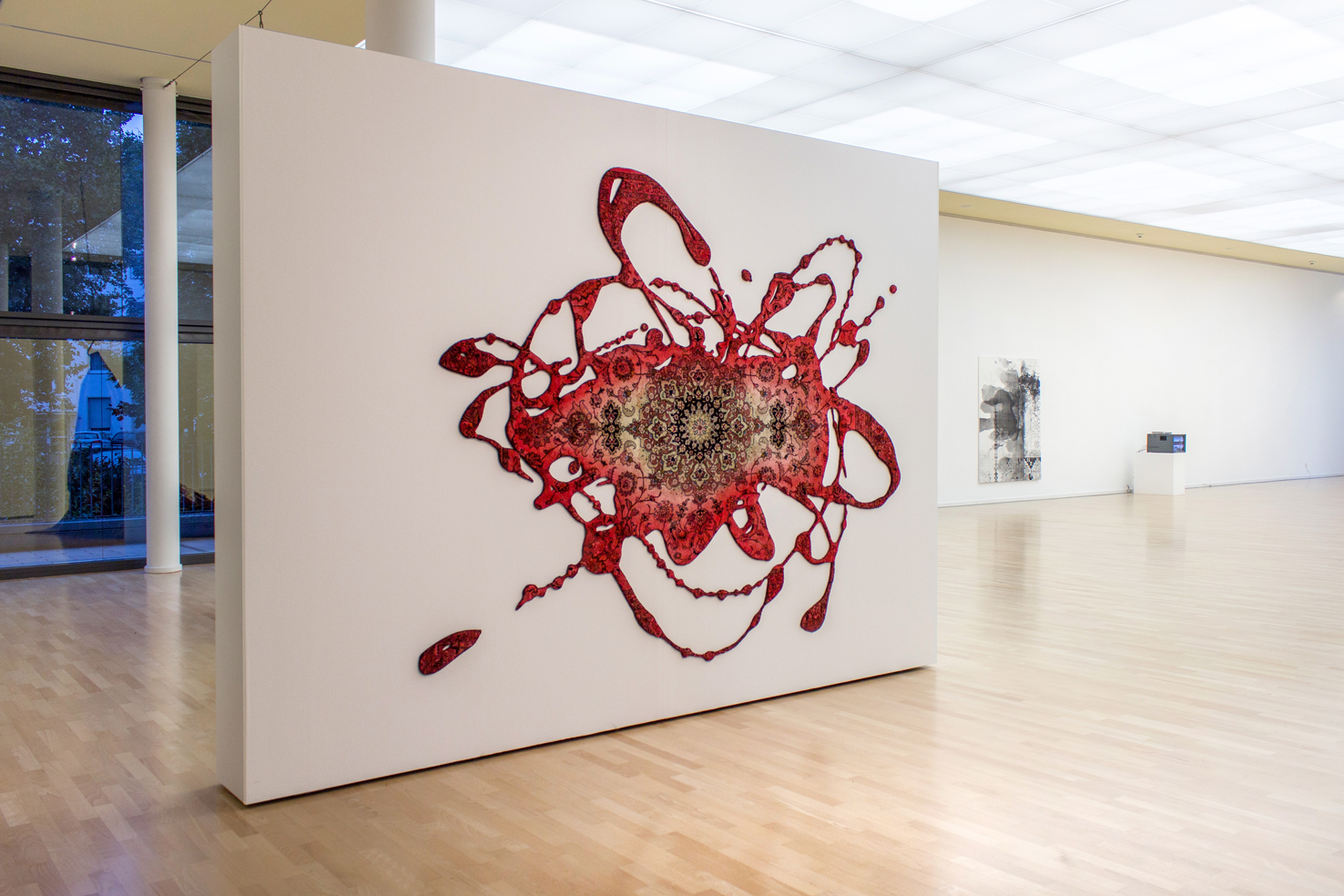 ABOUT
Born in Székelykeresztúr/ Transylvania, Romania, 1969. Noemi holds a Master in Architecture from the Technical University of Vienna and a Master in Philosophy from the Vienna University of Humanities. In 2011 she founded of the Viennese fashion label WIENER FETZEN. Between 2011-2013 she collaborated as the artist-Duo KISS THE REICHL. Since 2013 – she has been working on her own, as an artist on the interface between, art, design and architecture.
An architect and philosopher Kiss maneuvers with a range of materials. She re-incarnates old Persian rugs and alters them into new surprising forms, implementing new functions and structures – they can become, for instance, a table. A rug with its ornaments and patterns is loaded with strong symbolic. Let it be cut out or painted the original meaning gets a new angle. New silhouettes emerge from the surface in a strong livelihood. The insects appearing on the rugs are similarly obnoxious as worn-off rugs. Kiss provokes ones senses in marrying the precious rug with the profane construction material concrete; the hard and the soft material clash and transgress into a new object.
ORIENTAL RUG PROJECT – DESIGN OF TIME
Laborious woven or knotted by hand, oriental rugs tell stories, interwoven in the piece. The ornaments have strong meanings. A rug can be for decorative furnishing, a symbol for paradise and a place holder for prayer. The artist uses this strong symbolism and marries it with the interventions of her choice, like cutting, overpainting or gilding. During its lifetime a rug is traded, bought, possibly resold, used over decades by various people, layering the piece with another history of usage. Foot worn carpets are witnesses of their past. One cannot simply copy them. Wear and tear, the Design of Time has scraped off layers of material and revealed the tight weave and some single knots of the rugs. Here aesthetics is to be understood as a state that cannot be produced intentionally. Such surfaces develop slowly and on their own with the human and the use. It needs time till these marks of wear and tear become visible to the eye giving us, furthermore, a deeper insight into the multiple structure of the carpet. Noemi is a material fetishist and lets collide the grown with the made. She loads banal substances and materials that feels distant to art with a new meaning. She encourages to rethink our notions of materiality, their value and how we evaluate nature.
EXHIBITIONS
2018
Objecte, Galerie Wolfrum, Vienna, 4 May - 30 June
Groupshow, Greaphic Cabinet, Galerie Wolfrum, Vienna, 23 Nov- 31 Dec In Focus: Rumania, ip forum, Vienna, 20 Sept
The Love Edition, Galerie Konzett, Vienna, 1 Dec 2018 - 1 Jan 2019
2017
Werkschau - Hotel Ruby Marie, Vienna, Jan, 2017
Rugs, at Judith Ortner, Vienna, (solo) March 30 – June 3, 2017
Take Festival Playground, Vienna (group show), April 25-29, 2017
Xeno, Arthill Gallery, London (group show), September 6-22, 2017
Jetzt Kommen wir auf den Teppich zurück, Kunsthall Giessen (group show), September 16 – November 19, 2017
2016
Crossroads Art Fair, Marion Friedmann Gallery, Oct 2016
Museum Macura, DADA 2, Belgrade, (group show), Sept-Dec 2016
Marion Friedmann Gallery, summer show, Hipphalle Gmunden, Austria, July 2016 "Vernetzt", Galerie Schimming, Hamburg , April 7 – May 30, 2016 (group show)
2015
"DELICACY - revisited" - Marion Friedmann Gallery, London, Sept. 2015
NEUE WIENER WERKSTÄTTE NWW Flagshipstore, Vienna, December 4 – February 24, 2015 (solo show)
"Sturm und Drang" GrenzArt/ Hollabrunn, Austria, March 13 – March 29, 2015 (group show)
Delicacy, MIART Milan Art Fair, Marion Friedmann Gallery, April 9 – April 12, 2015
Nomadin im Amt, old Finance Office, Vienna, May 30 - June 30, 2015 (group show)
'The Run - The Poetic of the Broken' / 'Die Laufmasche - Poesie des Kaputten', Exhibitioncentre Spoerri, Hadersdorf am Kamp, Austria, August – November, 2015
2014
LOOSHAUS Private Banking, Vienna, December 5, 2013 – January 15, 2014
ART INNSBRUCK internationale messe für zeitgenössische kunst, February 20 - 23, 2014
Wohnen & Interieur, Fair, Vienna, March 8 -16, 2014
designschool, Vienna, May 15 - November 1, 2014 (solo show)
ÖBV ATRIUM – ADVENTURES IN TEXTILES. BUG IN A RUG, Vienna, May 28 - September 19, 2014 (solo exhibition) Spitze und Beton – 12 c Raum für Kunst, Schnifis, Vorarlberg (Austria), September 1 - October 30, 2014 (solo show) Stilwerk WOHNHERBST, Viennam October 8 -13, 2014
KUNST_STRICH_STADTRAND, Vienna , October 24, 2014 (group show)
Im Werd1, Opening Im Werd 1, Vienna, October 30, 2014 (solo show)
Cineastic Gondolas in Lech am Arlberg, December 13, 2014 (group show)
2013
STYLECONCEPTION-DESIGNART Schauraum für zeitgenössisches Design und Kunst, NO MORE SPACE FOR YOU, Innsbruck, Jan - Feb, 2013 Kunst-Design-Kunst 17. ART Innsbruck Sonderschaum, Kooperation GALERIE RHOMBERG und STYLECONCEPTION Charly Walter, Feb 21 - 25, 2013 Wohnungsvernissage RAUMKUNST ZT GMBH, Vienna, June 26, 2013
VIENNA DESIGN WEEK 2013 - UNIKATESSEN Concept Store "Rho", Vienna, September 27 - October 6, 2013
Design – von Kunst bis Kitsch, Vienna, October 3 - November 10, 2013 (group show)
2012
Ausstellungshaus Spoerri Hadersdorf Am Kamp, Nö, May 6 – October 28, 2012
Art Suites "Love And Live (With) Art", September 14 – September 23, 2012
Presseclub Ok Linz Offenes Kulturhaus, Oö Kulturquartier, October 25, 2012 – January 13, 2013